Benefits and discounts finder
PLATFORM
Mobile (iOS, Android)
Client want an

app to find every deal, benefit or discount near in that moment.


User must select all subscriptions cards, banks, assurance company, etc. he/she has.
Genie centralise all information in the app and user can access (with geo-localisation) to a map with all available deals that are near in that moment.
This project has been created from the very beginning, so when we started Genie doesn't even have a brand. 
So, I also included and worked in Genie Branding Design too.
After several meetings, the client provides me all the background that I needed to understand, planning and estimate it. 
     - They need to develop a MPV to present to investors
     - Prioritise best and fast performance without losing quality
     - Back-end challenge to upload and keep updating all data about deals
1.

 
After defining and estimating design and development tasks, we according to use Agile methodology to optimize time as much as we could.  We defined 10-week estimation in total.
2.


I made my research to find references and know what competitors have done.
3.


I ideated a User flow to identify boundaries, pain points and most critical features to adapt and include them in our estimation.
4.


I created different personas and user journeys to understand, identify and visualise all possible scenarios. 
This helped us to define Genie's tone of voice for its users too.
I used Agile methodology, user personas, user journeys, desk research and benchmarking.
5.

 
After week 4, I presented to the client the first mockups to start correcting, iterating and defining different solutions.
 
Here are displayed some of the screens mocked using Moqups tool. This was critical to finish defining the functional details and scope.
What i discovered in this project
HIGH QUALITY + PERFORMANCE 
Definitely, prioritise best performance made me learn about how back-end structure and requests inside the app work. So, I have a constant participation with dev team to negotiate and deliver an optimised product without losing the excellence in graphic quality.
UX INCLUDES END-TO-END EXPERIENCE
I emphasise a lot designing this app keeping in mind the user journey, end-to-end. It's not about only user looking for deals but also allows the app to be an advertising platform or position 

bidding between brands.
_____________________
CREating a brand
for genie
Before moving on with the HQ sketches and start thinking about UI stage, I considered necessary to create a brand for Genie. I brainstormed a bunch of ideas and then presented them to the client to have a definition.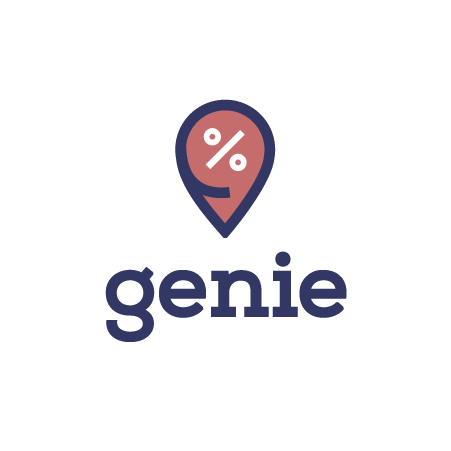 After 10-week of hard work, discussing and iteration we have all high-def screens with technical documentation and some interactions